What is Ron saying??
Do you have any ideas on what he could be saying? Submit them here!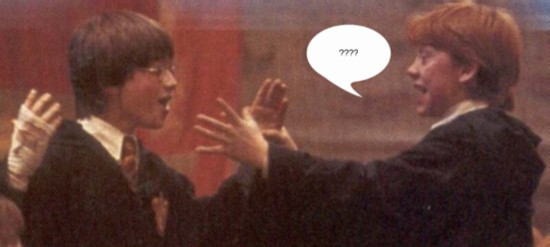 Stay away from my sister!!!!
Lizzie is mine!!! ( lol thanx lizzie! :D )
~*~[Ron:] Yo, Harry! (breaks into song) You know you make me wanna SHOUT! Take my fingers! SHOUT! Throw my hands back! SHOUT! Kick my heels up! SHOUT!~*~

[Harry:] That's it Ron! Shout it out homeboy! (also breaking into song) Come on now! Shout! Take it easy! SHOUT.......!~*~

[Hermione, Lavander and Parvati(?):] (in the background wearing gold midriffs, mini skirts and boots with thick high heels) Ooooooh! Yeeeeeaaaaaahhhhh.....~*~

[The whole Gryffindor choir:] (also in the background singing alla gospel style with clapping and swinging) SHOUT IT OUT!~*~ (submitted by Mel)


AAAAhhhh!!!!!!!!!! HELP ME Harry IT'S MY WORST NIGHTMARE!
A evil voice cackle I am your worst nightmare.
Please submit more!